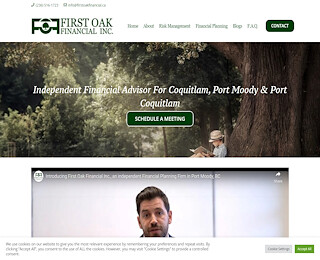 When you look at life in the grand scheme of things, your most valuable asset is your ability to make a living. While some people place more value on their vehicle, retirement account, or house, you would not have any of these things if you could not work and could not pay for them. This is why you need to ensure you are always covered with the help of disability insurance in Port Moody. 
Why Disability Insurance Coverage? 
To put it plainly, disability insurance is there to pay a portion of income should you become unable to work for a period of time due to injury or illness. Everyone who works for a paycheck should have some disability coverage. The more that you know about disability insurance and why you need it, the easier it will be for you to make some important decisions moving forward. 
It may seem remote or that it cannot happen to you – being out of work and missing months or even years of pay because you are faced with injury or illness. This is a concept that many young, healthy people will take for granted. Even if you work a desk job and have a position that is of little risk to your health, you may think that you will never have to worry about disability. 
However, you need to know that anyone can get hit with an issue at any time that will keep them from working. As a matter of fact, studies have shown that people in their 20s will end up experiencing the need to be out of work on some disability. About one in four people in their 20s will need to file for disability at some point. Even if you never think that it will happen to you, you must be prepared.
Some of the types of injuries or illnesses that you may want to consider when looking to have disability insurance in Port Moody include:
Amputation accidents
Injury from slip and fall
Back injuries from lifting heavy objects
Diabetes
Heart attacks
Cancer and other illnesses 
Knowing the Different Types of Disability Insurance 
There are essentially two main kinds of disability insurance – short and long-term coverage. Each of these insurance options replaces a portion of the monthly base salary to a cap during disability, such as $10,000. Some of the long-term policies will offer additional services, including training for an easier transition back into the workforce. 
When it comes to disability insurance in Port Moody, you want to learn about which coverage is right for you and how it works. If you still have questions regarding disability and the plan that may fit in best with your unique situation, we are always available to help here at First Oak Financial, Inc. 
As a full-service financial planning firm, First Oak Financial, Inc. is here to offer you solid options so that you can have the peace of mind that you deserve. Get in touch with us today for a free consultation regarding disability insurance in Port Moody by calling (604) 761-7543.
First Oak Financial
604-761-7543
#1900 1500 W Georgia St
Vancouver
BC
V6G 2Z6
CA